Long live the Sony Xperia Compact - only it's no longer called a Compact but goes by the much less revealing Xperia 5. Historically the only maker to put out full-fledged pocketable flagships is back at it with the 5 that's essentially a scaled-down 1.
Going from 1 to 5, Sony's shrunk the screen down from 6.5 to 6.1 inches in diagonal in the same tall 21:9 aspect ratio. The sortof 4K resolution would have been too much for the smaller display (possibly excessive on the Xperia 1 too, but that's a different story), so the Xperia 5 gets a more reasonable 1080p. Alongside the display, the battery capacity has been decreased by a few percent - nothing too dramatic.
And that's about it.
It's still the same 3x12MP camera configuration on the back that you'd find on the Xperia 1 - the de facto standard for a high-end phone trio of regular wide, ultra wide, and short (2x) telephoto. The Xperia 5 is also powered by the same Snapdragon 855 chipset as the full-sized version - no midrange SoCs just because you're going smaller.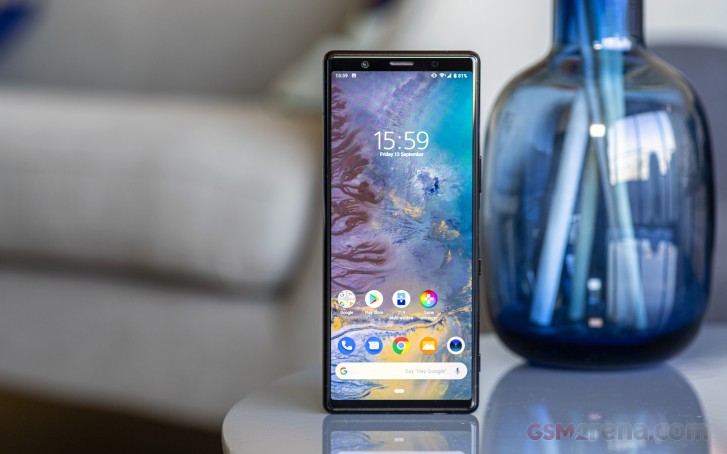 On top of these, the compact Xperia checks all of the other hardware features you'd get on the bigger model. You'd be getting the stereo speakers, microSD slot, side-mounted fingerprint sensor, and dedicated hardware camera key - a staple of Sony smartphone design. The point is, the 5 isn't missing something the 1 has, just for the sake of segmentation - and yes, we're looking at you, Galaxy Note10.
Sony Xperia 5 specs
Body: Aluminum frame; Gorilla Glass 6 on back and front; 158x68x8.2mm, 164g; IP65/68 ingress protection rating; Color options: Blue, Red, Black, Grey.
Screen: 6.1" OLED; 21:9 aspect ratio; 4K (1080x2520px); 449ppi; HDR BT.2020; DCI-P3 color space.
Rear cameras: Primary: 12MP (1/2.6" Exmor RS), f/1.6 aperture (ISO 3200), 26mm lens, Dual Photo Diode. Telephoto: 12MP (1/3.4"), f/2.4, 52mm lens. Ultra wide: 12MP (1/3.4"), f/2.4, 16mm.
Additional camera features: Predictive Capture (Motion/Smile), Autofocus burst with up to 10 fps AE/AF tracking; Eye Autofocus; Predictive Hybrid Autofocus; Anti-distortion shutter; Optical SteadyShot with Intelligent Active Mode (5-axis EIS + OIS); RAW noise reduction.
Front camera: 8MP (1/4" sensor), f/2.0, 24mm lens, fixed-focus.
Chipset: Snapdragon 855 chipset, octa-core processor (1x2.84 GHz Kryo 485 & 3x2.42 GHz Kryo 485 & 4x1.8 GHz Kryo 485), Adreno 640 GPU.
Memory: 6GB of RAM, 128GB of storage; up to 512GB microSD card support.
OS: Android 9.0 Pie
Battery: 3,140mAh Li-Ion; USB Power Delivery fast charging; Smart STAMINA, Battery Care, Xperia Adaptive Charging.
Connectivity: Dual-SIM/Single-SIM options available (market dependent); 5CA LTE 4x4 MIMO, Cat.19 LTE (Up to 1.6Gbps download speed); USB 3.1 Type-C; Wi-Fi a/b/g/n/ac; GPS + GLONASS; Bluetooth 5.0; NFC.
Audio: Hybrid stereo speaker setup, Dolby Atmos, DSEE HX, LDAC, Qualcomm aptX HD.
Misc: Side-mounted fingerprint reader, X1 for mobile engine, TRILUMINOS display, BIONZ X for mobile (Eye autofocus); Cinema Pro app for cinematic video recording.
Let's have a look inside the box for the stuff that doesn't go in the specsheet.
Sony Xperia 5 unboxing
The Xperia 5's box is similar to the 1's, only narrower (logical) and taller (what?!). Inside it, you'll find the same set of accessories that ship with the Xperia 1. That means the several months between the two phones' releases haven't made Sony switch to USB-C headphones - you're still getting a pair of earbuds ending in a 3.5mm connector which you then plug into the included USB-C-to-3.5mm dongle and then into the phone.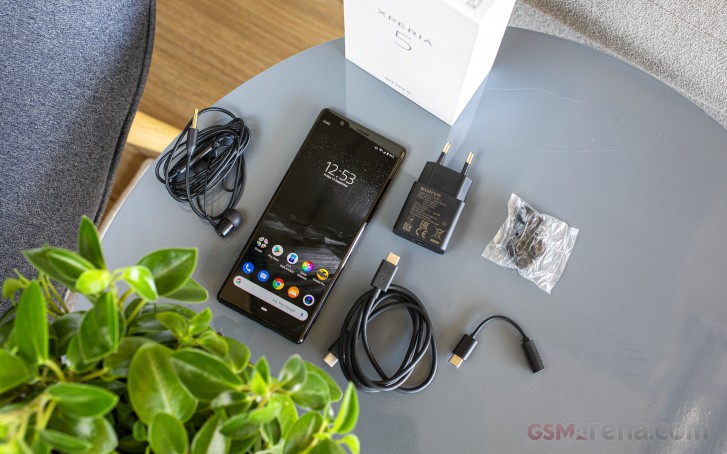 The package also contains a reasonably powerful 18W USB Power Delivery 3.0 adapter and a USB-C-to-C cable to complete the link.
Design
We already started along on the whole Compact tangent, but just how compact is the Xperia 5? Either not very, or a lot, depending on how you look at it.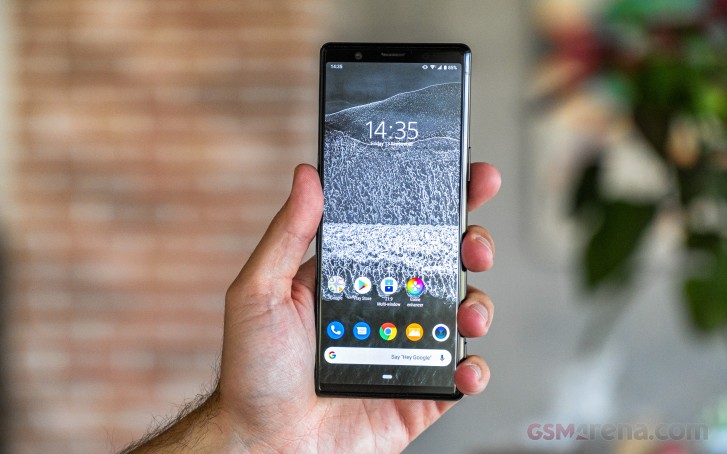 The phone measures 158x68x8.2mm and that's more than 3 centimeters taller than the last Compact, the XZ2 Compact from the Spring of 2018. The 5 is substantially thinner (some 4mm) and 3mm narrower, but there's no escaping the fact that it towers over the XZ2C. It's also taller than some current pocket-friendly competitors, like the Galaxy S10e (by 16mm) and regular S10 (by 8mm).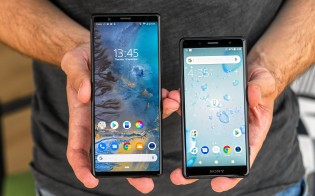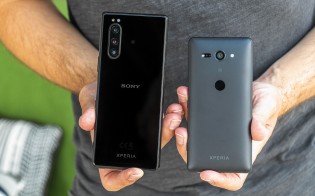 Sony Xperia 5 next to XZ2 Compact
Hold the Xperia 5 after having spent some time with the Xperia 1 though, and you'll see what we're on about. The 5 is smaller than the 1 (math teachers look away) and quite appreciably so. That's the in-hand experience at least, even if photos or numbers don't make the difference seem that huge.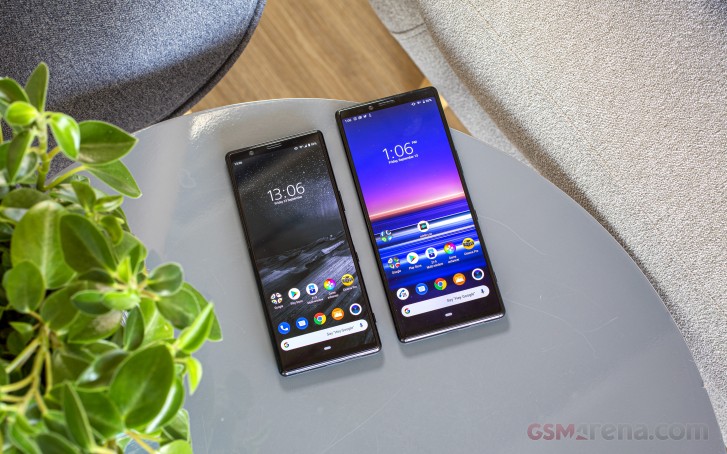 Then there's the matter of us gradually getting so used to the Pluses and Maxes around us that a handset the size of the Xperia 5 feels compact despite its 16-centimeter height. A welcome advantage of the Xperia 5's formfactor is that it's super comfy for voice calls - if you're still into that.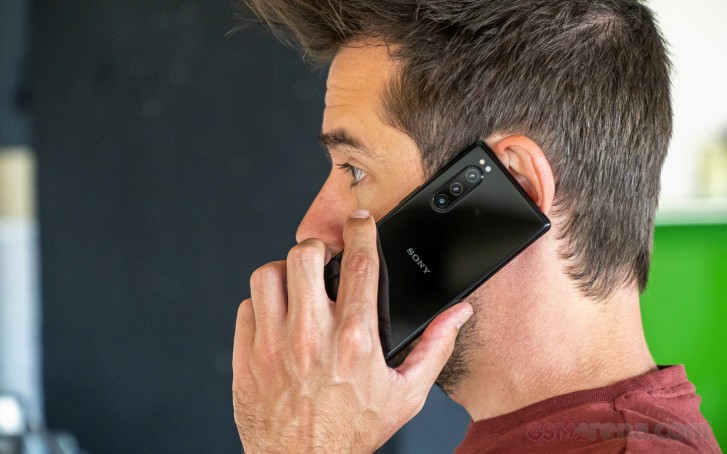 The Xperia 5 has a lot of the same genes as the 1 but there's that one very notable difference - the 5's camera assembly is in the top left corner as opposed to being along the central axis of the phone. The three modules share the same hump and there's also a single LED flash as well as a light temperature sensor - so same hardware as the 1, only shifted to the side.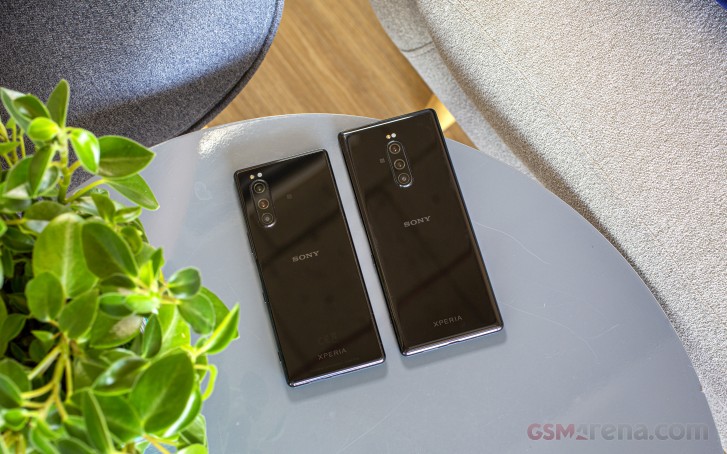 Other than that, the Xperia 5 is a similar rectangular bar of a phone with a very solid, chunky feel to it. The default glass sandwich build is here to stay and the two sheets of the latest Gorilla Glass 6 are held together with an aluminum frame. Naturally, a fingerprint mess is to be expected unless you opt for a case. Case or not, the Xperia 5 is IP65/68 rated for dust and water protection.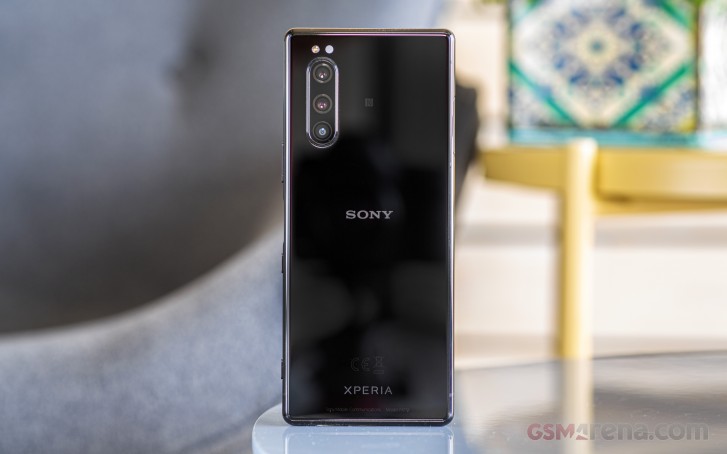 The Xperia 5 has the same control layout as the 1 and we're not entirely fans of it. You have the volume rocker, fingerprint sensor, power button and two-stage shutter release, top to bottom, all on the right side of the phone. The power button and volume rocker click nicely but perhaps could have been a little larger. The shutter release has a well defined half-press so that's nice, though we can't help but finds its existence a bit unnecessary in the age of touchscreens.
Then there's the fingerprint reader. Initially, you'd have a slight issue adjusting to the fact that the fingerprint reader and power button are two separate entities, their functions decoupled, so you unlock with one and lock with the other, but you quickly get used to that.
It's just that the fingerprint unlock is a frustrating experience a lot of the time. For one, the sensor is small, and additionally it picks up smudges so you sort of need to wipe it clean every now and then to ensure it'll function. And then, the phone gives you no feedback for a failed attempt to unlock, so you could tap it several times unsuccessfully, only to find out you've exhausted the available attempts and need to wait or unlock otherwise.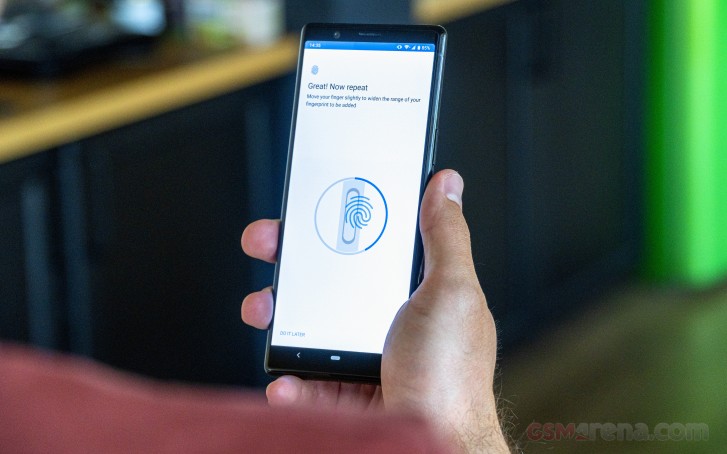 Other bits you'd find around the Xperia 5's perimeter are the card slot, on the left side of the phone. It can take a nano SIM and a microSD card on the single SIM variant, while the dual SIM versions have a shared slots for the second SIM and memory card. Invariably, the phone will restart when you pull out the tray, but at least you don't need a pin for it.
Down on the bottom there's the USB-C port, which, in the absence of a 3.5mm jack, also serves as a headphone connector through the supplied adapter. The primary mic is around these quarters too, and here is where you'll find the primary loudspeaker, with a somewhat questionably looking grille in front. Up top, another mic helps with noise canceling and sound for video recording.
The nice 6.1-inch OLED display covers most of the front, its 21:9 cinematic proportions unobstructed by cutouts of any sort. In a world of minimal bezels and even 'waterfall displays', the Xperia 5 has a healthy amount of meat around its screen, but it's perfectly acceptable.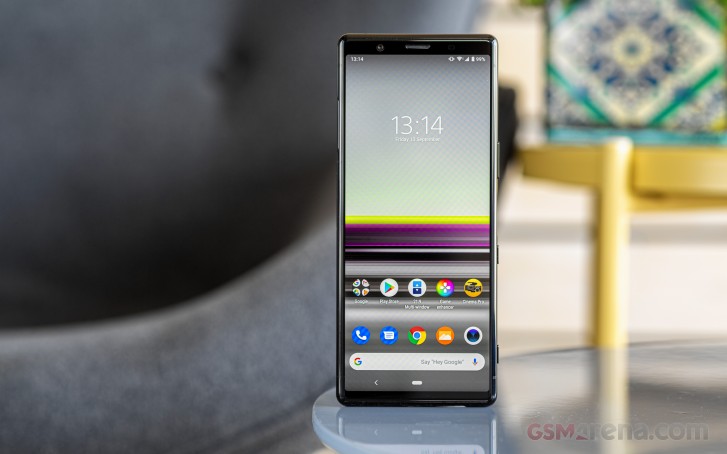 Above the display, Sony's fitted all the usual bits that bezelless phones struggle with relocating. The earpiece is in the center behind a mesh that tends to accumulate dirt over time, so a gentle touch with toothbrush every once in a while wouldn't hurt. The slefie camera is to the left, while the ambient light/proximity sensor pair are on the right. And a good old RGB notification LED lurks in the left corner, nice.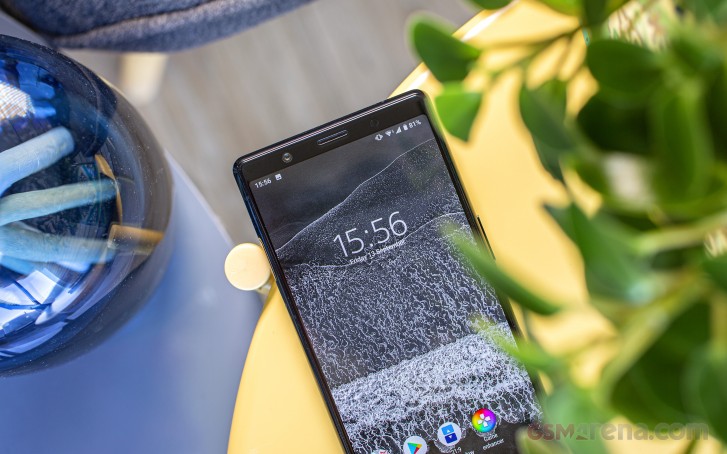 6.1 inches in a 21:9 aspect is the new Compact
The Xperia 5 has a 6.1-inch display. The diagonal sounds huge next to the latest true Compact, the XZ2 Compact's 5 inches, but such are the times. On the one hand, the 21:9 aspect does make for a narrower handset, and on the other, people's perceptions of a pocketable phone have evolved.
Sony's fitted an OLED panel on the Xperia 5, just like on the 1. Here they've opted for a 2560x1080px resolution resulting in a plentiful 449ppi density - there's certainly no need for 3840x1644px on a screen this size.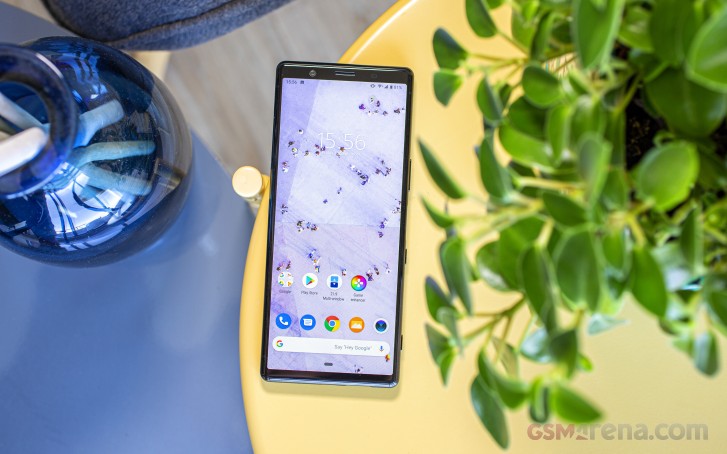 In the default Standard/Cool color mode we measured a maximum brightness of 353nits - slightly lower than average for a modern OLED display. This goes all the way up to 574nits in Adaptive brightness under direct light - much better, though still not among the leaders in the pack.
In Creator mode (which sets the color balance to Medium) we got higher readings both manually adjusting the slider (386nits) and in Adaptive mode (631 nits).
We measured a minimum brightness of 2.2nits - perfectly adequate, too.
Display test

100% brightness

Black, cd/m2
White, cd/m2

Contrast ratio

Sony Xperia 5
0
353
∞
Sony Xperia 5 (Max Auto)
0
574
∞
Sony Xperia 5 (Creator mode)
0
386
∞
Sony Xperia 5 (Creator mode, Max Auto)
0
631
∞
Sony Xperia 1
0
391
∞
Sony Xperia 1 (Max Auto)
0
665
∞
Google Pixel 3
0
426
∞
Apple iPhone XS
0
660
∞
Samsung Galaxy S10e
0
389
∞
Samsung Galaxy S10e (Max Auto)
0
803
∞
Huawei P30 Pro
0
571
∞
Huawei P30 Pro (Max Auto)
0
605
∞
OnePlus 7 Pro
0
436
∞
OnePlus 7 Pro (Max Auto)
0
616
∞
Xiaomi Mi 9 SE
0
444
∞
Xiaomi Mi 9 SE (Max Auto)
0
637
∞
Samsung Galaxy Note10
0
366
∞
Samsung Galaxy Note10 (Max Auto)
0
789
∞
Speaking of those display modes. You have settings for "Image quality" where you can pick between Standard and Creator modes, and then there's the 'White balance" setting where you can choose between Warm/Medium/Cool, or adjust to your liking with RGB sliders.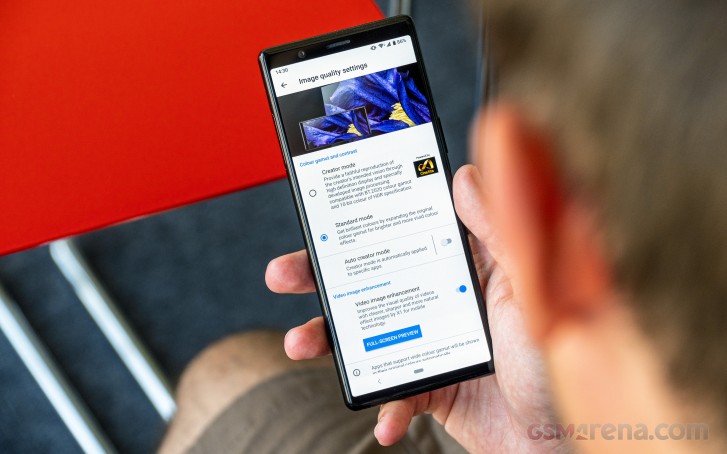 In this Creator mode, the Xperia 5 should display as accurate colors as possible with any HDR video (it's the ITU-R BT.2020 color space in particular). It will also upconvert any SDR stream to HDR all while making sure the stream's color gamut is converted too. Of course, your best bet for making the most of the feature is watching appropriate HDR video content. You can either switch the Creator mode permanently on or have it activate automatically when you are playing back the right content.
We found the display to be very accurate in displaying our sRGB test swatches in Creator mode with Warm white balance (average deltaE of 1.9, 4.2 maximum), though the grayscale was off the most (dE around 4) and having a bluish tint. The shift to blue is noticeable in most display modes.
We're guessing our iProfiler/Calman/MobileForge testing setup can't trigger the right Creator enhancements because we didn't get very accurate readings when targeting other color spaces, and Standard mode was generally off the mark too.
Sony Xperia 5 battery life
The Xperia 5 is equipped with a 3,140mAh battery, some 190mAh less than the Xperia 1, or a 6% reduction in capacity for a display area that's 12% smaller. For a similarly sized display, the Galaxy S10e has a similarly sized battery (3,100mAh), while the Galaxy S10 packs more juice to power a slightly larger panel (3,400mAh).
All these numbers don't necessarily tell the whole story as we've come to find out in the past, and this is yet another such instance. The Xperia 5 posted excellent numbers in all disciplines comfortably outlasting the X1 in the screen on tests. In our testing, the Xperia 5 was good for 11:40h of Wi-Fi web browsing and 16:28h of looping videos - compare that to the Xperia 1's 8:57h and 11:10h results. The little Sony also beats the little Samsungs in both these tests, by a particularly wide margin when comparing against the S10 (10:10h and 12:56h results).
Call time was also more than respectable at 28:34h, which is again better than the Galaxies and more surprisingly, better than the Xperia 1.
In the end, the Xperia 5 scored an Endurance rating of 96h with particularly good performance in the screen on tests.